3-time champions Chennai Super Kings became the first team to qualify for the IPL 2021 playoffs with a six-wicket win over Sunrisers Hyderabad in match 44 of the T20 tournament in Sharjah on Thursday.
Chennai Super Kings' 6-wicket win had a vintage feelt to it as skipper MS Dhoni smashed that winning hit off Sunrisers Hyderabad pacer Siddarth Kaul in the final over of IPL 2021 match 44 to seal a playoff spot for the three-time champions. Chennai produced a convincing performance against Hyderabad to maintain their remarkable consistency this season and sail into the IPL playoffs in Sharjah on Thursday. The bowlers, led by Josh Hazlewood (3/24) and Dwayne Bravo (2/17), restricted SRH to 134 for seven after Dhoni opted to bowl first on a slow surface.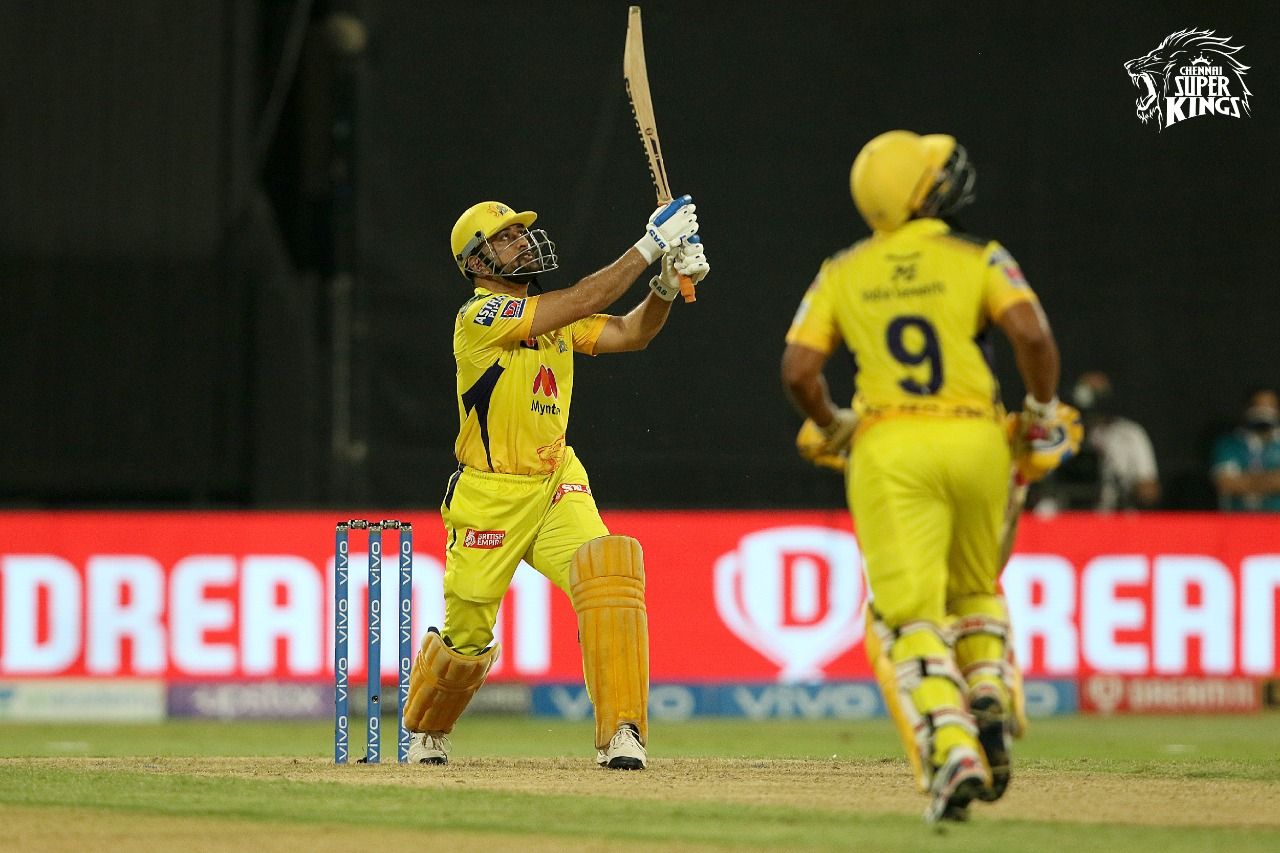 IPL 202 Today Match Report- MS Dhoni finishes off in style as Chennai Super Kings beat Sunrisers Hyderabad by 6 wickets to qualify for IPL 2021 I
Chasing the total, in-form openers Ruturaj Gaikwad (45 off 38) and Faf du Plessis (41 off 36) shared a sublime 75-run stand to give CSK an ideal start. A mini-collapse in the middle overs made the chase interesting before CSK got the job done in 19.4 overs with Dhoni (14 not out off 11) hitting the winning six and bringing back memories of his heydays. The three-time former champions thus ended the chase, scoring 139 for four, for a convincing six-wicket win.
CHENNAI 139/4(19.4 OV) RR 7.07
---
| BATSMAN | R | B | 4S | 6S | SR |
| --- | --- | --- | --- | --- | --- |
| RUTURAJ GAIKWADc Kane Williamson b Jason Holder | 45 | 38 | 4 | 2 | 118.42 |
| FAF DU PLESSISc Siddarth Kaul b Jason Holder | 41 | 36 | 3 | 2 | 113.88 |
| MOEEN ALIb Rashid Khan | 17 | 17 | 2 | 0 | 100 |
| SURESH RAINAlbw b Jason Holder | 2 | 3 | 0 | 0 | 66.66 |
| AMBATI RAYUDUnot out | 17 | 13 | 1 | 1 | 130.76 |
| MS DHONI (C) (W)not out | 14 | 11 | 1 | 1 | 127.27 |
| RAVINDRA JADEJA | | | | | |
| DWAYNE BRAVO | | | | | |
| SHARDUL THAKUR | | | | | |
| DEEPAK CHAHAR | | | | | |
| JOSH HAZLEWOOD | | | | | |
EXTRAS: 3
(b – 0, w – 3, no – 0, lb – 0, penalty – 0)TOTAL139/4 (19.4 OV) RR 7.07
FALL OF WICKETS
1-75 (Ruturaj Gaikwad, 10.1 ov), 2-103 (Moeen Ali, 14.4 ov), 3-107 (Suresh Raina, 15.3 ov), 4-108 (Faf du Plessis, 15.5 ov)
| BOWLERS | O | M | R | WKT | WD | NB | ECON |
| --- | --- | --- | --- | --- | --- | --- | --- |
| SANDEEP SHARMA | 3 | 0 | 18 | 0 | 0 | 0 | 6 |
| BHUVNESHWAR KUMAR | 4 | 0 | 34 | 0 | 2 | 0 | 8.5 |
| JASON HOLDER | 4 | 0 | 27 | 3 | 0 | 0 | 6.75 |
| RASHID KHAN | 4 | 0 | 27 | 1 | 1 | 0 | 6.75 |
| SIDDARTH KAUL | 2.4 | 0 | 24 | 0 | 0 | 0 | 9 |
| ABHISHEK SHARMA | 2 | 0 | 9 | 0 | 0 | 0 | 4.5 |
MATCH NOTES
Chennai
Referral 1 (5.3 ovs): R Gaikwad against SRH (LBW) Successful (SRH: 1, CHE: 1)
Mandatory Power play (1-6): Chennai 47/0
Strategic Time-out : Chennai 47/0 in 6.0 overs
Chennai 54/0 in 6.4 overs
1st wkt Partnership: 54 off 40 balls between R Gaikwad (32) and du Plessis (21)
Chennai 101/1 in 13.2 overs
Strategic Time-out : Chennai 103/1 in 14.0 overs
HYDERABAD 134/7(20.0 OV) RR 6.7
---
| BATSMAN | R | B | 4S | 6S | SR |
| --- | --- | --- | --- | --- | --- |
| JASON ROYc MS Dhoni b Josh Hazlewood | 2 | 7 | 0 | 0 | 28.57 |
| WRIDDHIMAN SAHA (W)c MS Dhoni b Ravindra Jadeja | 44 | 46 | 1 | 2 | 95.65 |
| KANE WILLIAMSON (C)lbw b Dwayne Bravo | 11 | 11 | 2 | 0 | 100 |
| PRIYAM GARGc MS Dhoni b Dwayne Bravo | 7 | 10 | 0 | 0 | 70 |
| ABHISHEK SHARMAc Faf du Plessis b Josh Hazlewood | 18 | 13 | 1 | 1 | 138.46 |
| ABDUL SAMADc Moeen Ali b Josh Hazlewood | 18 | 14 | 1 | 1 | 128.57 |
| JASON HOLDERc Deepak Chahar b Shardul Thakur | 5 | 5 | 0 | 0 | 100 |
| RASHID KHANnot out | 17 | 13 | 2 | 0 | 130.76 |
| BHUVNESHWAR KUMARnot out | 2 | 2 | 0 | 0 | 100 |
| SANDEEP SHARMA | | | | | |
| SIDDARTH KAUL | | | | | |
EXTRAS: 10
(b – 0, w – 4, no – 1, lb – 5, penalty – 0)TOTAL134/7 (20.0 OV) RR 6.7
FALL OF WICKETS
1-23 (Jason Roy, 3.3 ov), 2-43 (Kane Williamson, 6.3 ov), 3-66 (Priyam Garg, 10.5 ov), 4-74 (Wriddhiman Saha, 12.3 ov), 5-109 (Abhishek Sharma, 16.3 ov), 6-110 (Abdul Samad, 16.5 ov), 7-117 (Jason Holder, 18.2 ov)
| BOWLERS | O | M | R | WKT | WD | NB | ECON |
| --- | --- | --- | --- | --- | --- | --- | --- |
| DEEPAK CHAHAR | 4 | 0 | 32 | 0 | 0 | 0 | 8 |
| JOSH HAZLEWOOD | 4 | 0 | 24 | 3 | 0 | 0 | 6 |
| SHARDUL THAKUR | 4 | 0 | 37 | 1 | 1 | 1 | 9.25 |
| DWAYNE BRAVO | 4 | 0 | 17 | 2 | 3 | 0 | 4.25 |
| RAVINDRA JADEJA | 3 | 0 | 14 | 1 | 0 | 0 | 4.66 |
| MOEEN ALI | 1 | 0 | 5 | 0 | 0 | 0 | 5 |
MATCH NOTES
Hyderabad
Mandatory Power play (1-6): Hyderabad 41/1
Hyderabad 51/2 in 8.1 overs
Strategic Time-out : Hyderabad 57/2 in 9.0 overs
Hyderabad 100/4 in 15.3 overs
Strategic Time-out : Hyderabad 102/4 in 16.0 overs
Referral 1 (19.6 ovs): CHE against R Khan (LBW) Unsuccessful (SRH: 1, CHE: 0)
Innings Break: Hyderabad 134/7 in 20.0 overs